Visa Inc. (V/NYSE/S&P500) 12 June 2017, 12:52
Visa Inc. (V/NYSE/S&P500)
12
June
2017, 12:52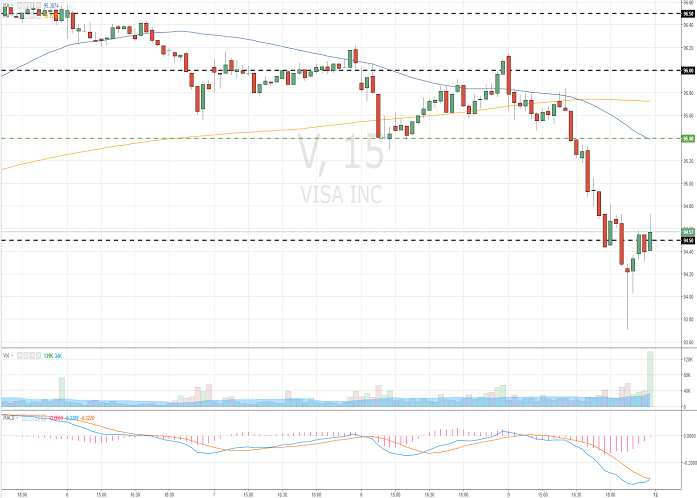 Scenario
Timeframe
Intraday
Recommendation
SELL STOP
Entry Point
94.45
Take Profit
94.15, 93.80, 93.50
Stop Loss
94.85
Key Levels
93.50, 94.50, 95.40, 96.00, 96.50
Alternative scenario
Recommendation
BUY STOP
Entry Point
95.45
Take Profit
96.40, 97.00
Stop Loss
93.90
Key Levels
93.50, 94.50, 95.40, 96.00, 96.50
Industry: credit services
Current trend
Visa tries to strengthen its positions in the quickly developing sergment of the Internet of Things to expand its business and customer base. The segment is expected to include 20.4 bln connected devices by 2020. Visa attracted 13 new partners to participate in the Visa Token service – a technology that provides additional level of safety in the course of payment.
The company also announced the support of Samsung Pay in Hong Kong. Visa customers may carry out payments via a mobile application. According to the company's estimates about 78% of Hong Kong residents make daily payments with their smartphones.
Within the previous week the stock of Visa reduced by 1.65%. S&P500 lost 0.40% within the same period.
Comparing company's multiplier with its competitors in the industry, we can say that Visa shares are neutral.
Key levels
Last week the trading instrument showed correction after considerable growth in the previous month. On Friday it was dominated by aggressive sales. The trading ended with the fall of #V quotes by 1.59%. The emitter reached the key support level of 94.50. 95.40 is a "mirror" resistance level. Currently indicators do not give any clear signal. Positions may be opened from key levels.
Support levels: 94.50, 93.50.
Resistance levels: 95.40, 96.00, 96.50.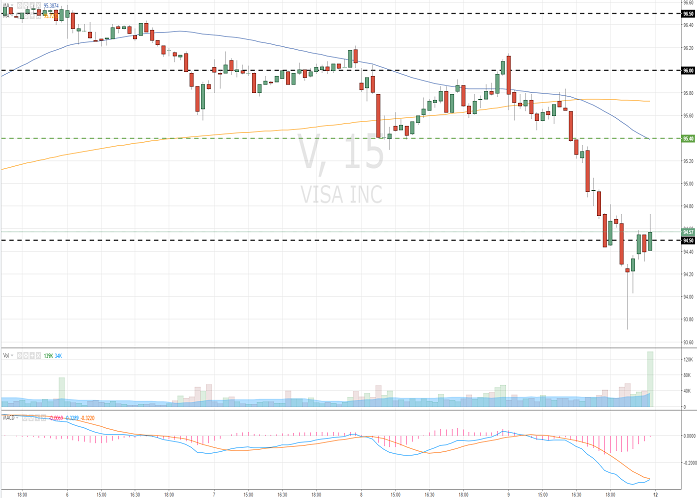 Trading tips
If the price breaks through and consolidates below the key support level of 94.50, correction may continue. Potential profits can be locked in by installments at 94.15, 93.80, 93.50. Stop-loss should be placed at 94.85.
The global upward trend may continue. If the price consolidates above 95.40, long positions could be opened. There is a potential of movement to 96.40-97.00. Stop-loss should be placed at the level of 93.90.
Trading tips will be relevant for 3 days.