The Procter & Gamble Company (PG/NYSE/S&P500) 23 June 2017, 13:09
The Procter & Gamble Company (PG/NYSE/S&P500)
23
June
2017, 13:09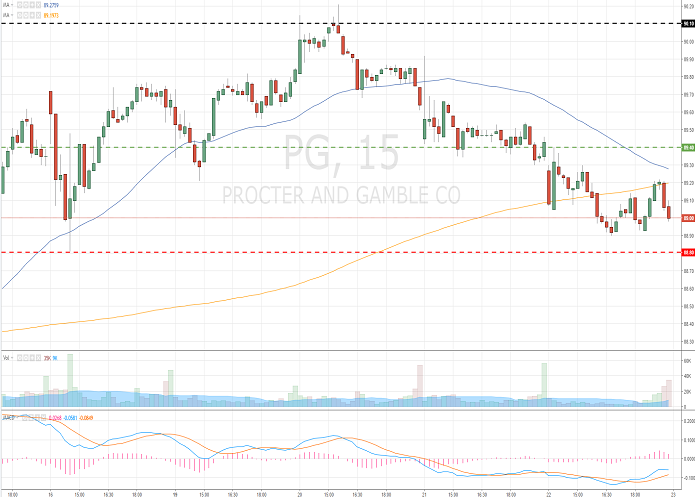 Scenario
Timeframe
Intraday
Recommendation
SELL STOP
Entry Point
88.70
Take Profit
88.35, 88.00, 87.60
Stop Loss
89.25
Key Levels
87.60, 88.20, 88.80, 89.40, 90.10
Alternative scenario
Recommendation
BUY STOP
Entry Point
89.50
Take Profit
90.00, 90.50
Stop Loss
89.00
Key Levels
87.60, 88.20, 88.80, 89.40, 90.10
Industry: personal hygiene products
Current trend
In the end of the previous week Procter & Gamble held a meeting with the investors and presented the results of the mid-term restoration program and a new development strategy. The share of the the company in the markets of its presence has been reducing for some years which is putting pressure on its income. In the framework of its restoration program Procter & Gamble optimized its brands portfolio reducing their number from 170 to 65 by means of selling or winding up production lines with low profitability. The new Procter & Gamble strategy provides for division into 10 separat business entities with a decentralized decision making system.
During the previous week the stock of Procter & Gamble dropped by 0.39%. S&P500 index went up by 0.13% during the same period.
Comparing company's multiplier with its competitors, we can say that Procter & Gamble shares are neutral.
Key levels
During recent traing sessions the instrument is showing corrective movement after considerable growth of #PG quotes since the beginning of the current month. The technical picture in the company's shares is uncertain. The key trading range is 88.80-89.40. Indicators show mixed signals: the price is below MA(50) and MA(200); MACD histogram is in the positive zone. Positions are to be opened from key levels.
Support levels: 88.80, 88.20, 87.60.
Resistance levels: 89.40, 90.10.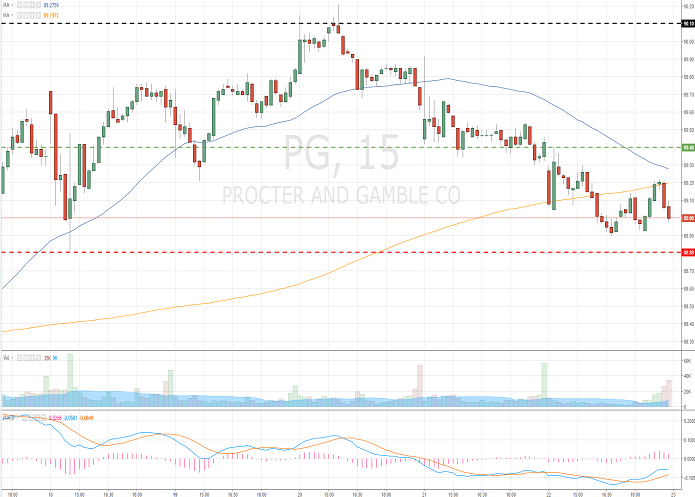 Trading tips
If the price consolidates below the resistance level of 88.80, the stock of the company may continue to correct. Potential profits can be locked in by installments at 88.35, 88.00, 87.60. Stop-loss should be placed at 89.25.
If the price consolidates above 89.40, long positions may be opened. There is a potential of movement to 90.00-90.50. Stop-loss should be placed at the level of 89.00. Trailing stop is to be used for positions.
The period of implementation is 2-3 days.