Mastercard Incorporated (MA/NYSE/S&P500) 23 June 2017, 12:59
Mastercard Incorporated (MA/NYSE/S&P500)
23
June
2017, 12:59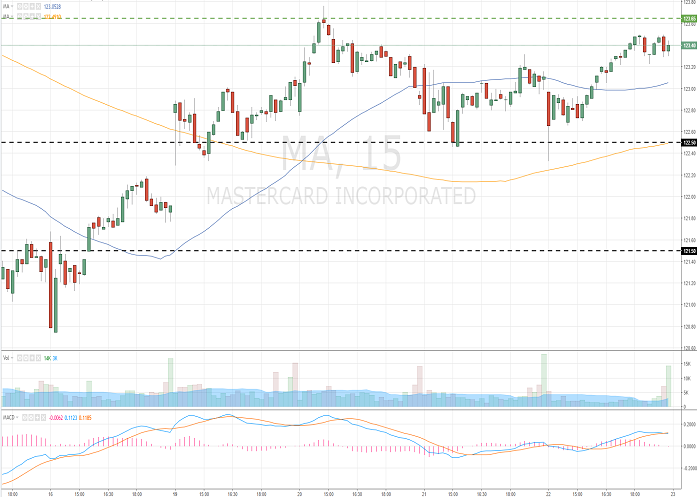 Scenario
Timeframe
Intraday
Recommendation
BUY STOP
Entry Point
123.70
Take Profit
124.15, 124.80, 125.25
Stop Loss
123.00
Key Levels
120.50, 121.50, 122.50, 123.65, 125.00
Industry: credit services
Current trend
Mastercard tries to beat its major direct competitor American Express in the area of credit payments. The company is carrying out international expansion trying to broaden its business by attracting new customers from all over the world. American Express, on the contrary, aims to gain the reputation of an high-class reliable payment system. In the previous quarter American Express lost some positions in the growth of income due to the loss of a major customer - Costco Wholesale. The increase of revenue and income in Q1 2017 by 12% in view of the competitor's failure helped Mastercard consolidate its position in the US market.
Last week, Mastercard shares increased by 1.55%. S&P500 index went up by 0.13% during the same period.
Comparing company's multiplier with its competitors, we can say that Mastercard's shares are undervalued.
Key levels
Last week the emitter kept the key support level of 120.50 which caused the continuation of a global upward trend. During yeterday's trading the stock of the company reached the local resistance level of 123.65. The nearest support level is 122.50. Currently indicators do not give any clear signal. However, one may open long positions.
Support levels: 122.50, 121.50, 120.50.
Resistance levels: 123.65, 125.00.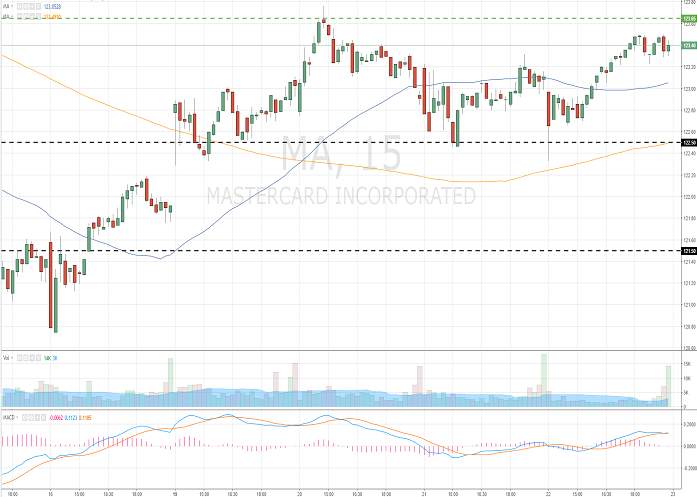 Trading tips
If the price consolidates above the level of 123.65, one may consider buying #MA. Potential profits can be locked in by installments at 124.15, 124.80 and 125.25. Stop-loss may be placed at 123.00.
Trading tips will be relevant for 2 days.