EUR/USD: general review
01
June
2017, 09:28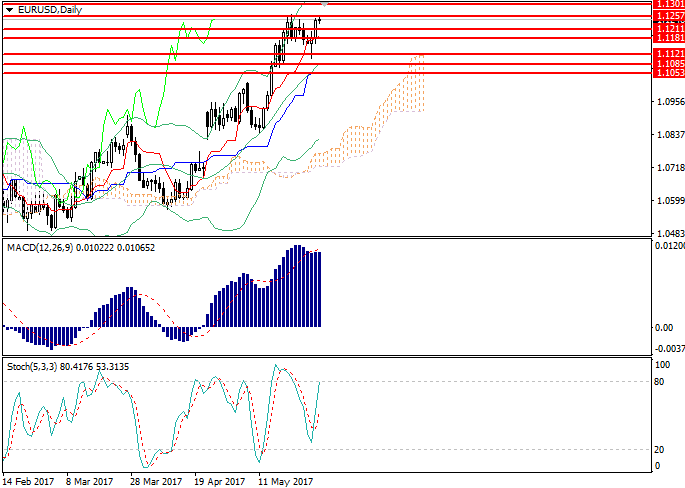 Scenario
Timeframe
Intraday
Recommendation
BUY STOP
Entry Point
1.1260
Take Profit
1.1320, 1.1350
Stop Loss
1.1210
Key Levels
1.1050, 1.1085, 1.1120, 1.1180, 1.1210, 1.1255, 1.1300, 1.1355
Alternative scenario
Recommendation
SELL STOP
Entry Point
1.1195
Take Profit
1.1120
Stop Loss
1.1225
Key Levels
1.1050, 1.1085, 1.1120, 1.1180, 1.1210, 1.1255, 1.1300, 1.1355
Current trend
Yesterday the pair EUR/USD strengthened in view of weak data on uncompleted transactions in the US housing market. According to the National Association of Realtors, the reason for the fall of the indicator by 1.3% (against the expected growth by 0.5%) was limited supply. Due to it the trading instrument reached an important psychological level of 1.1250. Along with this, negative EU statistics, "dovish" rhetorics of the head of ECB, and the existence of political risks in the EU don't put any considerable pressure on the pair. Along with this the market reacts even to secondary macroeconomic data from the USA which is caused by the increasing uncertainty around FOMC monetary policy decision that is to be announced on June 14.
Today is characterized by numerous macroeconomic releases from the USA. Market players have to pay attention to the publishing of ADP report on the level of employment in the industrial sector and on the data about initial jobless claims. Later on ISM is to publish Industrial PMI and the index of gradual inflation build-up. Experts believe this data will be mied causing strong market volatility.
Support and resistance
On D1 chart the instrument consolidated near the strong resistance level of 1.2500. Bollinger Bands are directed upwards, while the price range has widened which is a reason for the preservation of the current trend. MACD histogram is in thee positive zone maintaining the buy signal. Stochastic is about to enter the overbought zone.
Indicators recommend long positions, but in the current situation it would be reasonable to use deferred by stop and sell stop orders.
Support levels: 1.1210, 1.1180, 1.1120, 1.1085, 1.1050.
Resistance levels: 1.1255, 1.1300, 1.1355.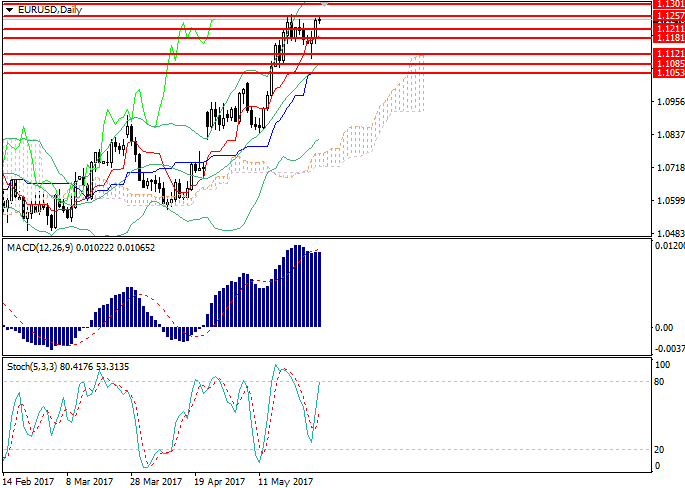 Trading tips
Long positions may be opened from the level of 1.1260 with targets at 1.1320, 1.1350 and stop-loss at 1.1210. The period of implementation is 1-3 days.
Short positions may be opened at the level of 1.1195 with targets at 1.1120 and stop-los at 1.1225. The period of implementation is 1-3 days.