EUR/USD: general review 23 June 2017, 09:52
EUR/USD: general review
23
June
2017, 09:52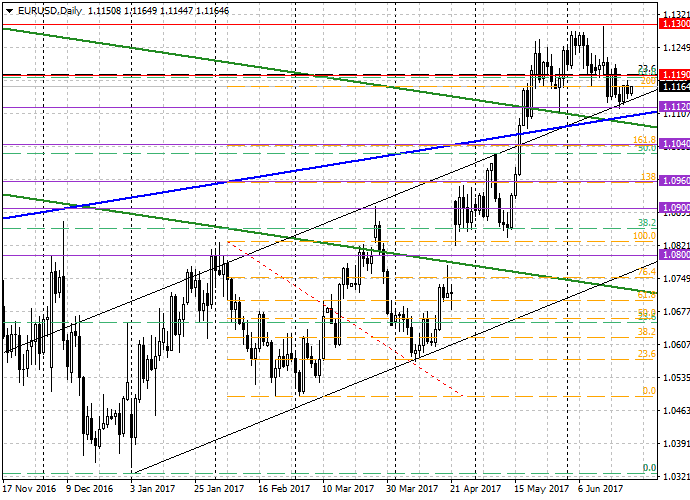 Scenario
Timeframe
Intraday
Recommendation
BUY
Entry Point
1.1174
Take Profit
1.1300
Stop Loss
1.1090
Key Levels
1.0960, 1.1040, 1.1120, 1.1190, 1.1300, 1.1380
Alternative scenario
Recommendation
SELL STOP
Entry Point
1.1120
Take Profit
1.1040, 1.0960
Stop Loss
1.1200
Key Levels
1.0960, 1.1040, 1.1120, 1.1190, 1.1300, 1.1380
Current dynamics
Last week the pair EUR/USD reached a nine-month high, but after the decision of the US Federal Reserve on the interest rate, the pair began a correction, and is still being corrected. Yesterday, in the first half of the day, the European currency gained support after the meeting of the European Central Bank, at which a decrease in risks for the world economy was noted. But, later the release of positive data of the US real estate market and the speech of the member of FOMC Powell supported the dollar, and the pair EUR/USD fell to the level of 1.1150.
Today in the US at 15:45 (GMT+2) statistics on business activity and activity in the services sector will be released: business activity is expected to grow, and services activity will fall, according to forecasts. At 16:00 (GMT+2) data on sales of new housing in the US will be published, the forecast assumes a growth rate of 28K, and at 20:15 (GMT+2) we are waiting for the speech of FOMC member Powell.
We assume that the consolidation of the pair will continue today.
Support and resistance
As you can see from the daily chart, the level 1.1150 creates a strong resistance to the price, because there are three channel boundaries coincided in this zone: the upper borders of the black and the green channels and the lower border of the blue channel. The age of the blue and green channels is more than a year and a half, which also confirms the strength of the resistance zone created by them.
Support levels: 1.1120, 1.1040, 1.0960.
Resistance levels: 1.1190, 1.1300, 1.1380.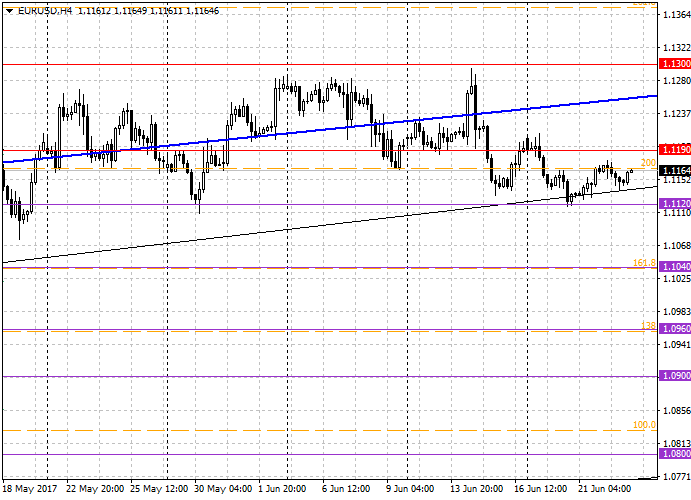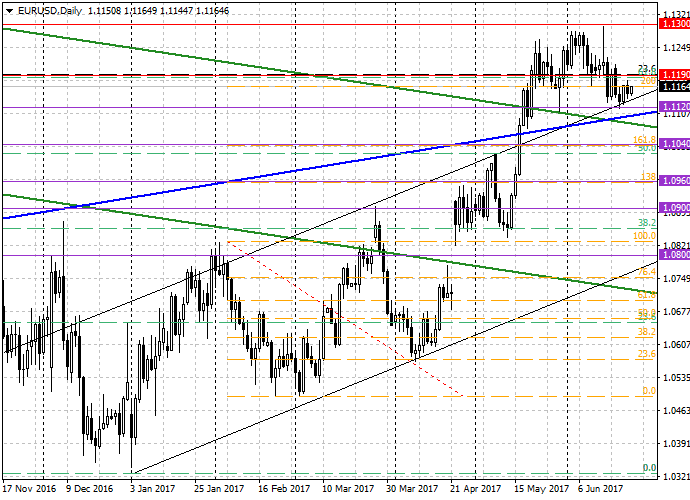 Trading tips
Long positions can be opened at the market price, the target is 1.1300, the stop loss is 1.1090.
Short positions should be set at level of 1.1120, targets – 1.1040, 1.0960, stop loss – 1.1200.