AUD/USD: general analysis 23 June 2017, 14:35
AUD/USD: general analysis
23
June
2017, 14:35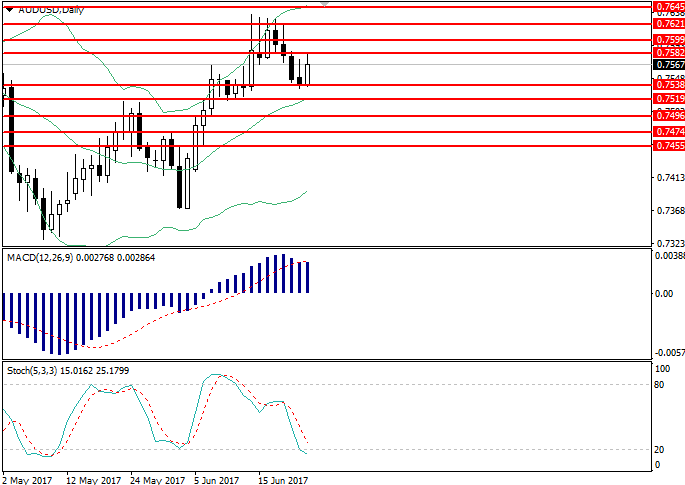 Scenario
Timeframe
Intraday
Recommendation
BUY STOP
Entry Point
0.7590
Take Profit
0.7635
Stop Loss
0.7565
Key Levels
0.7455, 0.7475, 0.7520, 0.7538, 0.7585, 0.7600, 0.7620, 0.7645
Alternative scenario
Recommendation
SELL STOP
Entry Point
0.7550
Take Profit
0.7495
Stop Loss
0.7570
Key Levels
0.7455, 0.7475, 0.7520, 0.7538, 0.7585, 0.7600, 0.7620, 0.7645
Current trend
From the beginning of the week the AUD/USD pair is in the strong downward trend. The support, which AUD got from the positive Australian house market data last week, was broken by the Head of the New York FRB commentaries, that the further increase of the interest rate this year seems profitable. The FRS officers give the controversial recommendations upon the further monetary policy, but it's clear that the most of the FRS representatives support the increase of the interest rate this year. The Australian currency is additionally pressed by the low oil prices, the growth of the oil rig activity in the USA and the fall of the commodity goods prices in general.
Today the restoration of the pair is mainly connected with the "black gold" prices correction. At the moment the oil is strongly oversold, and traders began to close short positions actively, waiting for the reversal of the downward trend. Taking into consideration that the weak macroeconomical USA data won't support the pair in the short term significantly, the trade instrument dynamics will depend on the oil prices and the moods of the FOMC Members Speeches.
As for the macroeconomical issues, the 3 FRS representatives' speeches, devoted to the monetary policy, will be published today. The controversial commentaries can cause a great volatility in the market. Besides, Baker Hughes US Oil Rig Count can affect the trade instrument dynamics today.
Support and resistance
On the daily chart the pair has rebounded from the support level of 0.7530 and began to grow. Bollinger Bands are pointed upwards, as the price range remains the same, which reflects the development of the current trend. MACD histogram is in the positive zone, keeping the buy signal. Stochastic entered the oversold area.
The indicators reflect the profitability of the long positions opening, however it's better to use buy stop and sell stop pending orders.
Support levels: 0.7455, 0.7475, 0.7520, 0.7538.
Resistance levels: 0.7585, 0.7600, 0.7620, 0.7645.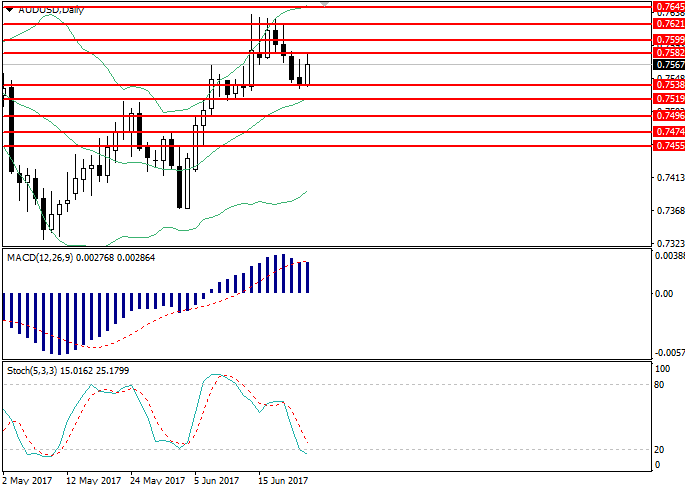 Trading scenario
Open long positions at the level of 0.7590 with the target at 0.7635 and stop loss at 0.7565. Implementation period: 1-2 days.
Open short positions at the level of 0.7550 with the target at 0.7495 and stop loss at 0.7570. Implementation period: 1-2 days.